MAG Box uses to be recognized as one of the most reliable and well-regarded devices for IPTV. When newcomers looking for their first IPTV box, MAG Box is always a good choice recommended by social media influencers. But customers' requirement is improving with years passed and technology developed. SuperBox is a fresh brand that acquired many customers and support in a relatively short time. In this article, we take the most popular models of both as examples to get into every detail, to find out which box you should have for IPTV entertainment.
SuperBox S2 Pro VS. MAG 424W3
Obviously SuperBox S2 Pro is the new star of the SuperBox brand. And we analyzed Amazon sales and comments, then selected the hot-sales MAG 424W3 as the sample to compare with SuperBox S2 Pro. Both of them are new and performed really well for TV streaming according to reviewers' video and end-users comments. We're gonna get into two side's configurations, price, reliabilities, and user experiences to compare each other, to help you to distinguish which one is better.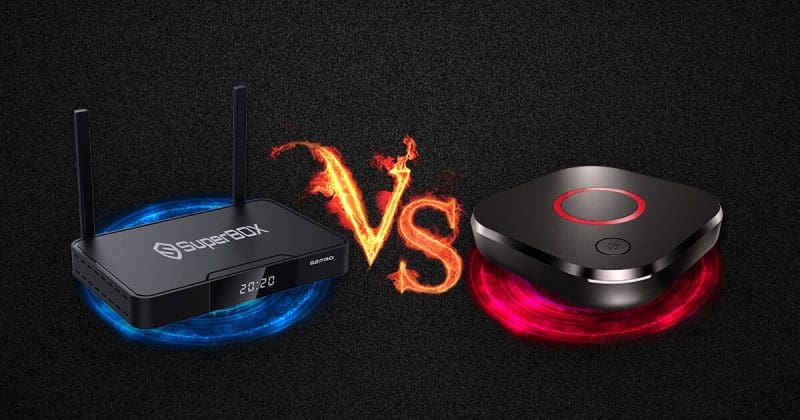 Configuration Comparison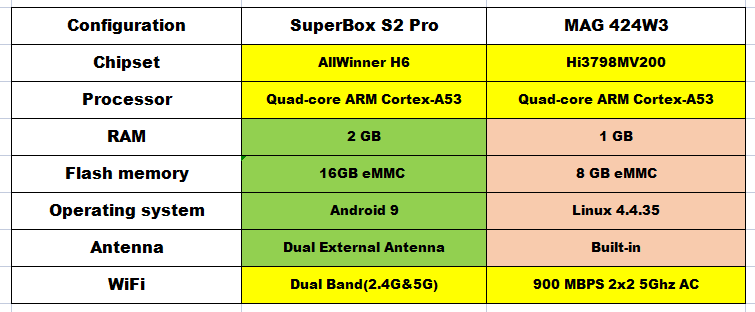 The Hisilicon and Allwinner chipset are both optimized for set-top boxes and been widely used in this industry. We can see the big difference is SuperBox S2 Pro takes the Android 9 operation system, while MAG 424W3 is taken the use of Linux 4.4.35. More importantly, with SuperBox S2 Pro, you can easy to access Google Play Store and browser on the home screen to get whatever you want. And SuperBox S2 Pro is slightly better in RAM and storage. We all know that we don't need a huge storage for watching TV, but the bigger is always the better, right?
Simply put, SuperBox S2 Pro is a bit better on configuration.
Price and Cost-efficiency Comparison
The SuperBox S2 Pro retail price is $299, and MAG 424W3 sells 199$ on Amazon. Aside from what coupon codes you can get with them, both of them are not cheap for a set-top box in the market. But the price is not that simple to compare. When you bought a MAG 424W3, you also need to get an IPTV service, and the price usually varies from dozens of dollars to hundreds of dollars per year. For SuperBox S2 Pro, you don't even have to cost an extra dime if you don't want to.
So I would say MAG 424W3 is cheaper at first purchasing, but SuperBox S2 Pro is a better long-time investment without question.
User-friendly Comparison
In my opinion, user-friendly should be the most important factor when things go to TV entertainment. If you tell me I need to spend hours learning how to watch TV, I'd rather throw the remote out the window. And I know there are many people who got the same feeling.
The MAG 424W3 did a good job in comparison with other IPTV set-top boxes in the market. After you boot up the MAG 424W3, you need to set up the NTP server at first, then your IPTV service portal, and DHCP. You can finish all the procedure within 20 minutes, but it based on if you were well educated on IPTV service.
For the SuperBox S2 Pro, to be honest, I don't have many words to say, because it's just so easy peasy, boot up the box, install a few apps, then you're ready to go, anyone can do this within 5 minutes even without the help of tutorial videos.
So I would give a thumbs up to the SuperBox S2 Pro in this section, no other IPTV boxes can be a competitor including the MAG 424W3.
Reliability Comparison
As we've mentioned both MAG 424W3 and SuperBox S2 Pro are not cheap, then we should have higher expectations of their lifespan.
MAG box gained a reputation for many years, and throughout the Infomir warranty service page, we can notice that we can ship back the box and get a replacement for non-human damage.
For SuperBox S2 Pro, the new star rising since 2018, clearly we need more time to verify its reliability. From the 24/7 customer service on the SuperBox official website, we can get to know that SuperBox offers one year warranty. In addition, as far as I know, that SuperBox has been served in this industry for many years in other regions instead of from nowhere, this might will give you more confidence when purchasing SuperBox products.
Due to MAG box and SuperBox both have a huge customer base but rarely bad news be heard, I personally would consider both MAG 424W3 and SuperBox S2 Pro are reliable and trustworthy.
Conclusion
Both MAG 424W3 and SuperBox S2 Pro are great choices when you considering giving IPTV set-top box a try. But if I have to make a choice, I would say the SuperBox S2 Pro is the best IPTV box in the market so far. It's built for no tech-savvy, you don't need to worry if your parents or friends can make it work. Because WATCHING TV SHOULD BE AS EASY AS POSSIBLE.
If you're experienced in IPTV and you can get reliable services, then the MAG 424W3 is also an excellent choice.