Android TV box is an Android operating system device primarily used for TV streaming. By connecting the TV box to your TV and setup network, you're able to watch desired TV shows, movies without buying a new Smart TV. The internet television industry has been developed quickly for years, and we see it won't stop at least in the near future. From 2021 to 2022, many new Android TV boxes appeared in the market, and some of them are worth buying, while some don't.
We've checked out all newly released Android TV boxes in the past year and selected 10 of the bests, from big brands to rising star, niche products. But we can't expect a flawless one since each of them has its downsides and unique features. If you want to get a new Android TV box to start watching IPTV or consider updating your outdated TV box, TV stick. Be cautious and read this article. We hope these reviews will help you choose the right one per your budget and needs. To make the most out of your money.
    1.Nvidia Shield TV Pro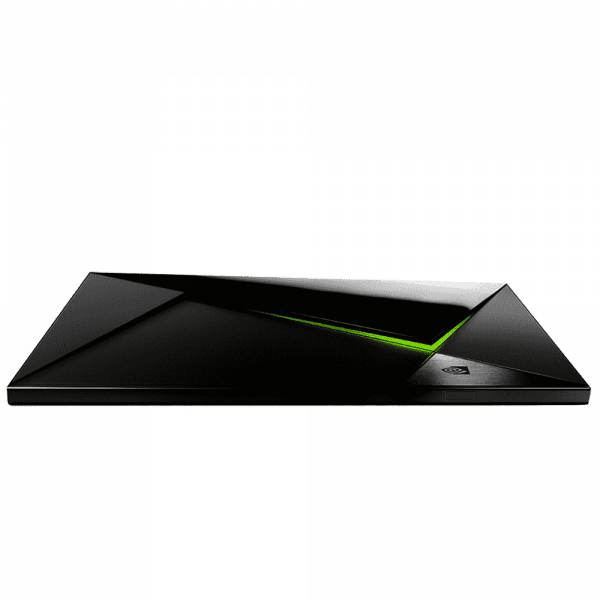 Nvidia Shield TV has appeared in all Android TV boxes ranking lists since its debut in 2015. The latest version Pro was released in 2019. Versatility and speed set it apart; it's a streamer game console, DVR media server, and smart home hub with voice assistance. Enjoy a cinematic experience with the highest quality 4k DHR entertainment. Thousands of apps, thousands of games, and google assistants built-in. The Shield TV is a high-performance streaming media player now up to 25 percent faster with the new Tegra X1 plus processor; enjoy Netflix prime video and Voodoo in stunning 4K with Dolby Vision HDR and Dolby Atmos and Dolby Digital.
The all-new Shield remote is more advanced than ever with motion-activated backlit buttons,  voice control Bluetooth control, and IR blaster control your TV buttons for power, volume, fast forward, rewind, play, pause, and a user-customizable button. Plus, never lose your remote with a built-in remote locator connect a game controller for access to gaming with Geforce.
Pros:
Still impressive 4K streaming and gaming performance, especially with the new Tegra X1+ chip
Offers extra USB ports for external storage
The AI 4K Upscaling is excellent
Cons:
Higher price while features have no big improvement as expected
No bundled controller compares to the previous version
Less internal storage than older Pro model
    2. Amazon Fire TV Stick 4K Max(2021 Edition)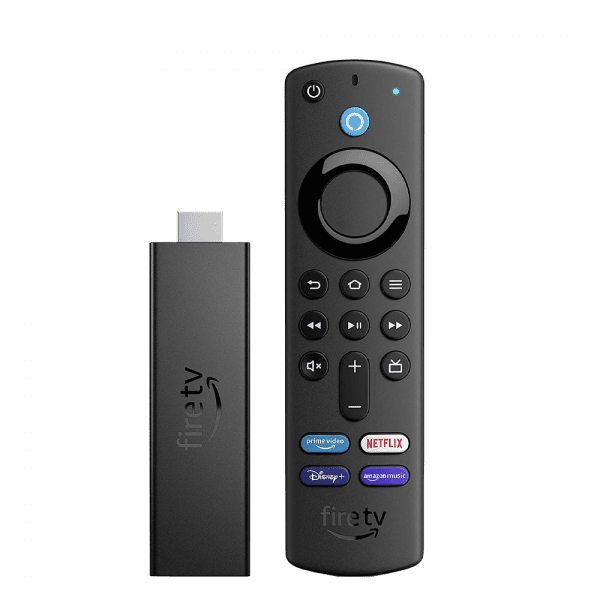 The 2021 edition comes with 8GB of storage and a 50% more powerful processor than before while using less energy than ever (this is one of the first Amazon devices certified as Climate Pledge Friendly. It also now supports Dolby Atmos Audio. Amazon claims the new processor will provide up to 40% better performance, which essentially equates to faster app starting and smoother navigation. And as we continue to see the rise in adoption of the best Wi-Fi 6 routers, the Fire TV Stick 4K Max will be able to take advantage of those faster speeds. Plus, you'll be able to use Live View picture-in-picture to keep an eye on the front door or make sure that your little one is still enjoying their nap.
Pros:
Wi-Fi 6 support
40% faster performance
Live View Picture-in-Picture enabled
Faster GPU provides low-lag cloud gaming with Luna
Cons:
Alexa is not hands-free
Not that much different from the Fire TV Stick 4K
Ads can be annoying sometimes
    3. SuperBox S3 Pro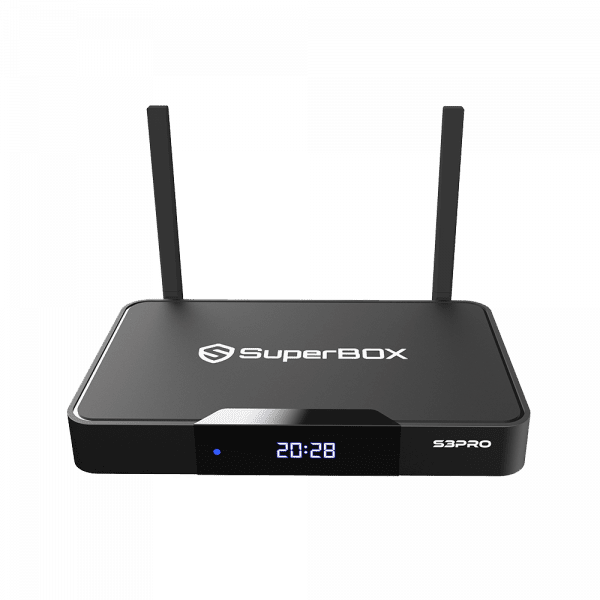 The greatest surprise of this industry is probably SuperBox has launched its SuperB ox S3 Pro by the end of 2021. This box is the first absolute voice command Android TV Box that supports TV channels, movies, TV shows voice searching. This feature is absolutely a game-changer for people that liberate your hands. We've had Google Assistant and Alex voices, but the voice command feature has not been widely used among IPTV users since they are restricted with their applications. Imagine you can speak to your remote control to search a certain channel or movie, instead of typing so many times on your little remote control.
Unlike other Android TV Box brands, SuperBox is unwilling to compete in hardware specifications but prefers to make streaming more accessible. The latest SuperBox S3 Pro takes the same configuration as the previous version – SuperBox S2 Pro, doubled the storage to 32GB, and came with a brand-new Bluetooth remote for voice control. The SuperBox S3 Pro has become a truly plug-and-play TV box with the new voice feature. If you're new to IPTV boxes or want to gift a surprise for parents, then the SuperBox S3 Pro should be your first choice.
Pros:
Amazing built-in voice control features
Easy to set up and operate
24/7 Customer service for end-users consultation
Cons:
Voice command needs an update for better understanding
Standard hardware specifications for its price tag
    4. SkyStream PRO 8K Streaming Media Player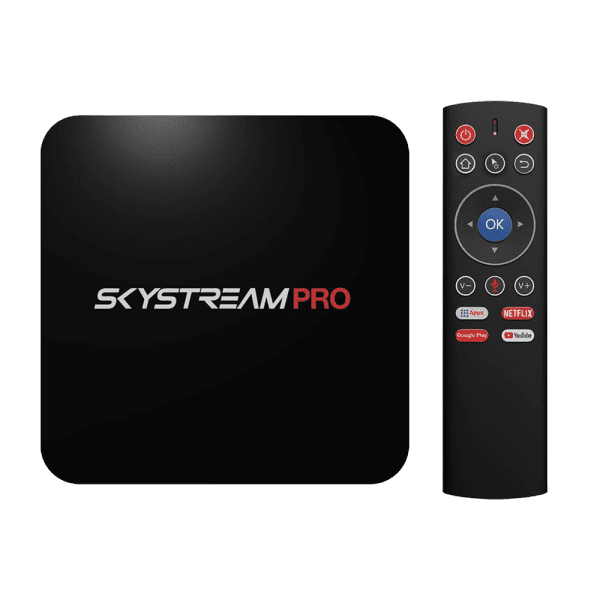 The SkyStream PRO 8K was released in early 2020 to replace the SkyStream Three, one of the industry's most outstanding IPTV boxes. The new box looks very similar to the previous version from its appearance. But you would notice the big update is it support 8K streaming from the name. It's probably the first streaming media player with 8K capabilities. If you own an 8K TV in your home, it could be a great option to enjoy an unparalleled home theatre experience with this device.
It takes an AMLogic S905X3 Quad-Core processor and runs Android 9, has 4GB RAM and 32GB of storage to fulfill streaming needs. And the new remote control fits nicely in your hands; the significant improvement is it supports Google Assistant.
Pros:
One of the most potent players can deliver 8K streaming
Incredibly easy to use, and comes with multiple valuable Apps
Support voice command with Google Assistant
Cons:
The outlook is a bit outdated due to pretty the same design with the old version
Not many families have 8K TVs nor many 8K contents for streaming as of now.
    5. Pendoo T95 Android 10.0 TV Box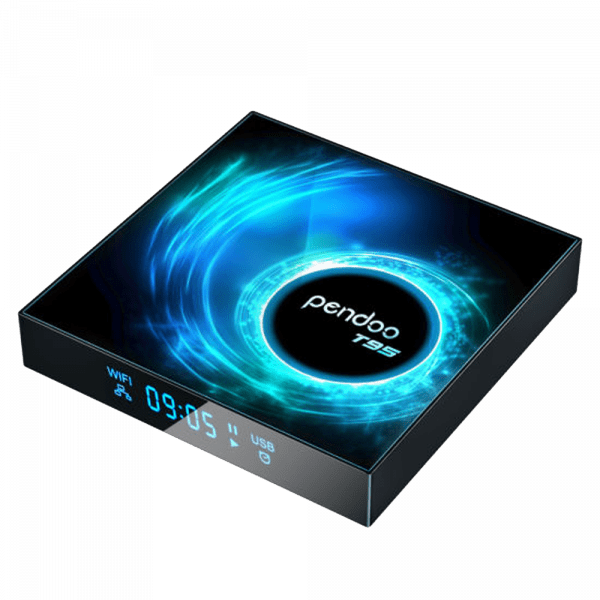 The Pendoo T95 is a budget Android TV box with the latest specifications that costs you no more than $7. Android 10.0 TV box supports decoding and playing almost all popular audio and video formats to bring you realistic picture quality. And with 6K of ultimate HD video, you can play tons of android games on a big 6K screen with more minor buffering.
It owns the latest Android 10.0 OS and has better software, games, and applications compatibility. It is equipped with an Allwinner H616 Quad-Core Corte-A53 CPU, making the android box smarter, faster than android 9.0, and better software, games, and applications.
Pros:
A cheap Android device that comes with the latest streaming specs
Installed daily APPs, like YouTube, Netflix, Facebook, Chrome, etc. Also support Extra Hard Drive, TF Card to expand storage.
Cons:
The remote's range is short and has no voice control
Mediocre if you expect more than a regular TV box
    6. Xiaomi Mi Box 4S Pro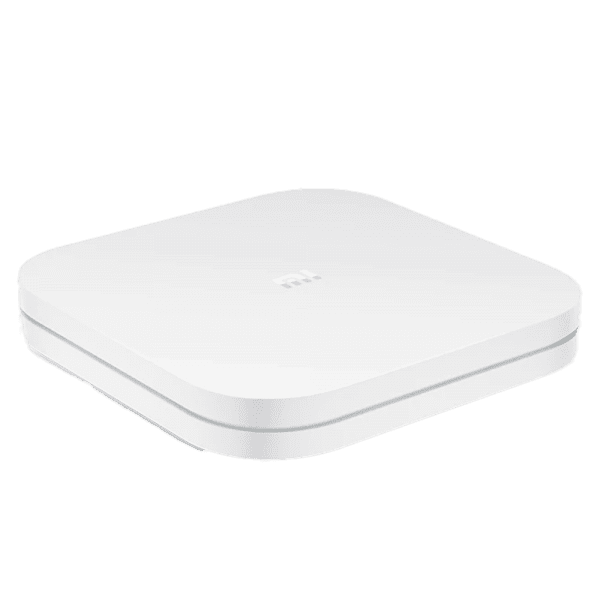 The Xiaomi Mi box s is a great Android TV box powered for superior functionality connecting your world of content and entertainment at home. Streaming just 8K it has an Amlogic Octa-core chip to clock that 1.8 it has 2GB Ram 16GB ROM, of course, it has Android 9, it has HDMI 2.1 and Dual-band Wi-Fi. There is also an ARM Mali-G31 GPU onboard, allowing the device to stream HDR content. The Mi Box 4S Pro can decode H.265 and VP9 codecs at 24 and 30 FPS.
The biggest draw of Xiaomi's premium streaming box is the 8K video playback. That's the only feature that sets it apart from the Mi Box 4S.
Pros:
Beautiful looking that continued Xiaomi's minimalist industrial style design
Feature-packed Android TV boxes at affordable prices
Cons:
No mouse option with the original remote
The global version is still waiting
Still not many 8K contents online for streaming right now
    7. Infomir 2021 Mag 524W3 4K Linux IPTV set top box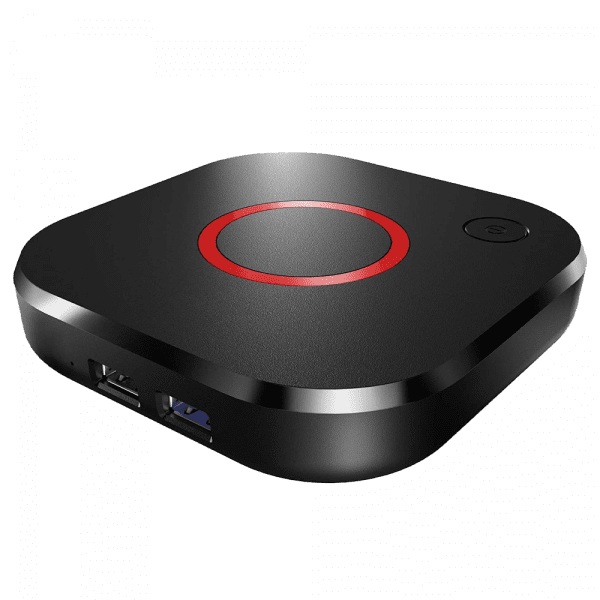 The well-known IPTV/OTT manufacturer released its 5th generation of Mag box in early 2021, the Mag 524W3 4K. It is an improved version of the base model MAG424 with a built-in Wi-Fi module of 802.11a/b/g/n/ac standard. At the same time, the design and remote are pretty the same with 424. Wi-Fi works feature dual-band to support both 2.4 GHz and 5 GHz channels. Linux 4.9, Amlogic S905X2 chipset, IR remote control, 4K and HEVC support, 1 GB RAM, 4 GB eMMC, HDMI 2.1 output, USB 3.0, USB 2.0.
They get the newest operating system 4.9 Linux, and a much better processor. The performance has been improved on 524W3, and the reboot times are faster.
Pros:
Still a powerful media player enabling users to enjoy modern IPTV/OTT services.
Compatible with modern audio systems and supports Dolby Digital Plus™ for clear surround sound.
Cons:
Not many improvements compared to the previous version.
1GB RAM and 4GB of Flash Memory are really outdated.
    8. Zidoo Z9X 4K Media Player Android 9.0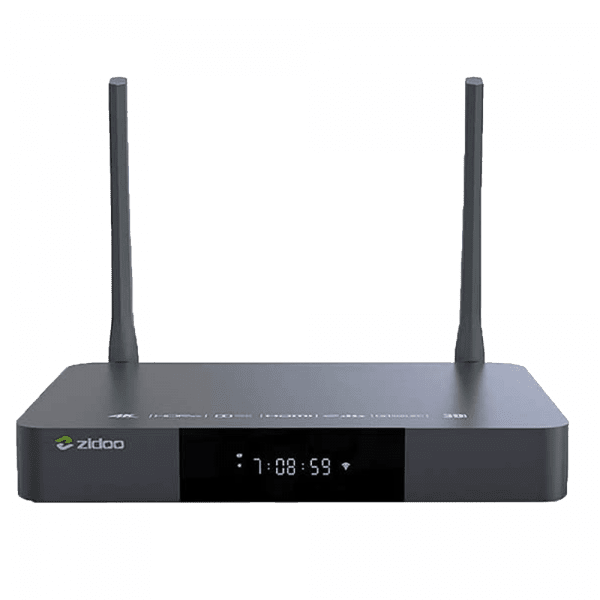 As a relatively new company, Zidoo was funded in 2014, but they brought some excellent products. And the latest is the Z9X 4K Media Player was released in October 2020. With the latest SoC(System on Chip) comes an increase in power, and it is based upon an ARM Cortex A55 Hexa-core CPU with 1.3 GHz, which is coupled with 2GB of RAM. It also adds support for the newest HDR10+ high dynamic range format while at the same time incorporating Dolby's VS10 processing engine for the conversion of various high dynamic range protocols.
The remote is still the same plastic one, with the back-lit option. And it is still IR-based. The button layout is easy to learn, and the grip is very comfortable due to its large size. Numeric keys are also included and are very conveniently used during video playback.
Pros:
Excellent playback capabilities
Support Dolby vison and HDR10+ and keep updating
Cons:
Remote doesn't support Bluetooth nor voice control
Not the best box for streaming services with such a higher price
    9. Apple TV Apple's second-generation Apple TV 4K
The new Apple TV 4K is a solid upgrade from the 2017 streaming box, with a more powerful chip and a rocking redesigned Siri remote, which will restore your faith in the touchpad. The Apple TV 4K (2021) is powered by the A12 Bionic processor, which is also found in the iPad and iPhone XS, rather than the A10X chip used in the previous iteration. It makes navigating the interface slightly speedier than before, and it also provides enough processing power to play high-frame-rate (60fps) HDR videos more smoothly than before.
The remote is unlike the previous version; the buttons are different from the rest to see the buttons in low light. You can press or touch to control the dial, and it also has power and mute buttons. You don't need to juggle multiple remotes anymore!
The device starts at $179 for 32 gigabytes. And it doesn't include an HDMI cord in the box.
If you're all in on the Apple Lifestyle and like the new remote very much, then you can have one.
Pros:
The new designed Siri remote is great
4K HDR / Dolby Vision / Dolby Atmos for quality visuals and sound
A good replenish for the Apple ecosystem
Cons:
Same design with the old version but a higher price tag
It doesn't support Android and many apps
    10. MINIX NEO T5 Android TV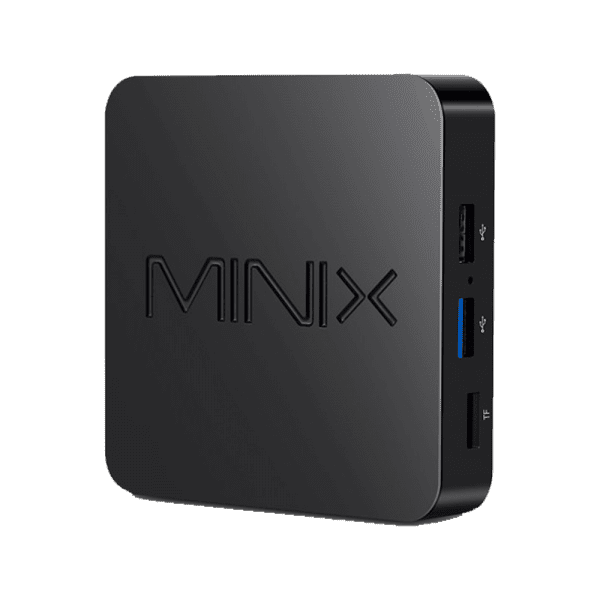 The MINIX NEO T5 is the first MINIX device to run the official Android TV operating system. All of their previous devices ran some version of pure Android or Windows – neither of which is that great for streaming devices.
The MINIX NEO T5 is based around the AmLogic S905X2 architecture. Its Cortex A53 quad-core processor is good and is more than up to the job. System RAM is a little low at 2 GB. Storage is on the low side at 16 GB. That's not enough memory to store even one Blu-ray video rip on the device's internal storage. It is a great device to make your standard TV become a smart TV and enjoy a private theater at home with your family. It is undoubtedly a good option if you are interested in a reliable Android TV Box in 2022.
Pros:
Google and Chromecast certificated
Plenty of compatible applications
Cons:
No automatic refresh rate
No Netflix certification like many other boxes
Conclusion
Based on personal knowledge, we've selected the best Android TV boxes from 2021 to 2022. We know there's no such box that can satisfy everyone. You need to consider if its feature and specs fit your budget needs. I hope this article can help you to find the right one.