Artificial Intelligence technology has been developed quickly over the years, and we've been experienced it with our smartphones. But now, you can use voice recognition technology on your TV box to control your TV easily. You don't even need to buy a new Smart TV. All you need is to get a SuperBox S3 Pro. Then you're free to control your TV just by speaking to the voice-activated TV remote.
Why do we need a Voice Control function when watching TV?
A simple answer is it's way easier! You must have experienced typing your TV remote so many times to search for a particular TV channel. Or feel frustrated to find a certain movie so hard with your subscribed services. We all waste so much time searching every day, and it could be tricky, especially for the elderly or children. While voice command is a saver that recognizes your voice, then feedback the signal to your TV box, and navigate to what you want instantly, which can free your hands.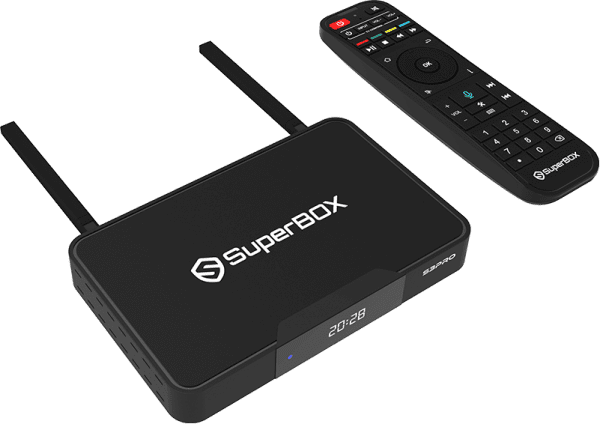 Do I need a Smart TV or Install applications to use the Voice Control feature?
SuperBox S3 Pro is an Android TV box that connects your TV through HDMI cable and broadcast any content from the TV box to your TV. It doesn't matter if you're using a high-end Smart TV or a regular TV. What affects is if your TV support high-definition resolution for a better watching experience.
You may need to install the Google Assistant and purchase a Voice Control remote for voice use with other Android TV boxes. While SuperBox S3 Pro's Voice Control system was built-in, you don't need to download or install other apps. All you need to do is connect the Bluetooth remote to your box. Then the Voice Control function will be activated automatically.
How to Pair Bluetooth Remote to SuperBox S3 Pro?
The Bluetooth Remote Control comes from the SuperBox S3 Pro package. You don't need to pay more to get it. The remote supports both infrared and Bluetooth. When the remote control is in infrared mode, you need to aim the remote control to the box to press keys, and the indicator light will flash longer while pressing. Follow the below guideline to pair the remote control to the TV box with Bluetooth.
Keep the remote and the TV box within paring distance(about within 10 inches)
Press the Voice button on the remote, then press the [OK] and [Return] buttons together until the indicator light flashes for pairing
Press the [OK] button until the red light stop blinking
Click [Settings]-[Remote&Accessories] to check if there's a "RC-100″device was connected
How to use the Voice Control with SuperBox S3 Pro?
Once you pair the Bluetooth remote, the voice control function has been activated automatically. Now press the Voice Button on the remote and speak. The SuperBox S3 Pro will follow your order and execute the operation.
TV box settings. Speak "Settings"to set up TV box; speak "WiFi"to set up WiFi connection; speak "date" to set up time and date; speak "Display" to set up TV screen display; speak "apps" to enter app store; speak "OTA" for OTA update;
Install and uninstall applications. Speak "download/install/update/upgrade + app name" to download and install the application. Speak "delete/uninstall + app name" to uninstall the application;
Open/close Apps. Speak application's name to open it, speak "YouTube" to open the YouTube app; speak "Browser" "Chrome" "open Chrome" to open the Chrome app; speak "TV" to watch TV; speak "video" to watch movies, TV series;
Back to Home Screen. Speak "Home" on any screens to return to the Home Screen.
YouTube searching: Open YouTube, press the voice button one time to activate the voice searching function, then long-press the voice button and speak to search anything on YouTube;
TV channel searching: Speak "channel's name + in TV" to watch the TV channel; speak "channel's name" while watching to switch to a certain channel;
Movie/TV series searching: Speak "movie's name + in video" to watch the certain movie, speak "TV series' name + in video" to watch the certain TV series; speak "movie's name" in the VOD section to search the movie; speak "director's name" to search movies made by this director; speak "actor's name" to search movies with this actor.
Does the SuperBox listen all the time?
Some people might worry about if the voice-activated TV box spy on themselves. The built-in SuperBox S3 Pro voice command system was built for TV control only, and the function only works when you press the Voice Button on the remote control. All signals would not be stored on our service or cloud.
Will the Voice Control TV box upgrade?
The SuperBox S3 Pro is the first-generation Voice Activated TV box that supports various applications on the market, it's superior but not flawless yet, and there's a long to go before perfect. We hope to receive more customers' advice and will keep improving. The system will update automatically or over the air. We'll provide tutorials when we have to. And you don't need to purchase a new one when the Voice Control system has been upgraded.
How to turn off voice control for TV?
If you want to disable the voice command function on the SuperBox S3 Pro, click the Gear icon below the home screen, then Device Preferences – Accessibility, select the AiSpeech and turn it off. The voice control function will be disabled, but the Bluetooth function will have remained.
What to do if my SuperBox S3 Pro Voice Command not working?
Firstly, go to Bluetooth settings, check if there's an "RC-100" was connected, that's the voice control remote's name. You can check this video for the Bluetooth pairing guide. You can also try to disconnect the remote then pair it to the box once again.
Secondly, check if your network connection is well, the voice system needs the internet to recognize your voice and transfer it to text signal. By testing some live TVs, or opening the FAST app, you will know your internet speed easily. And reboot your router if there's a need.
If all methods failed, you can look for customer service via Online Chat. We'll respond immediately and offer the greatest help.
Now you're aware of how easy to turn your regular television into a smart voice command TV and how easy SuperBox S3 Pro is to use. You might be curious about where to get it, actually you can get SuperBox S3 Pro from any authorized online stores or local shops. If you want to be one of our distributors, simply drop us an email, and we'll get back to you very soon.