With so many set-top boxes on the market, you might not sure which one is your best choice when decided to switch to the set-top-box from the cable. You may also get confused with the terms like IPTV box, Android TV box. In fact, IPTV box and Android TV box are the two main categories of set-top tv boxes. To be frankly, they are very similar but have several slight differences. Now let's dig up their differences, and help you to decide what decision to make.
We've talked about that IPTV box also called IPTV set-up box, and IPTV was short for "Internet Protocol Television". It is a device that translates information that you receive from Internet connection into a format that's readable by your television. It generally has a TV-tuner input, an external source of the signal and display output to your television set.
In another word, IPTV STB  makes your TV access to media content from specific sources. You may also wonder what's the difference between streaming content from Youtube or Netflix and IPTV box. Actually, you can access Youtube or Netflix streaming websites without any limits. But IPTV box will help you get access to specified IPTV streaming services, some of them are paid and others for free. Most of them are upgradable, dedicated media integration like live channels, VOD. You don't need a smart TV, all you need is connect your IPTV box to the internet and your TV.
We also care about picture quality when it comes to watching TV. IPTV STB doesn't have limitations about definitions, it displays what your TV support.
IPTV Set-Top-Box Pros
Can be used on any TV model
Professional TV experience
Support ultra-high resolution
Easy to upgraded via firmware updates
Less likely to get outdated
IPTV Set-Top-Box Cons
Higher price than Android boxes and expensive to fix
Most of them cannot install apps
Typically less versatile than Android TV boxes
Restrict by IPTV service
What is Android TV box?
Compeared to the IPTV set-top-box, the Android TV box is much easier to understand. It's typically an Android device just like your mobile phone. You're free to download many kinds of apps from the Android APP store. Android TV box is much more versatile compared to the IPTV box. Beyond watching TV shows, you can use it to play games, play music, watch streaming media, etc. I would say it's much like an Android tablet but relay on your TV screen. And more surprisingly, the Android TV box is usually cheaper than IPTV box and smart TV.
The most popular Android TV Box is the Amazon Fire TV Stick, the small plastic rectangular is quite cheap and can access to specified IPTV service. But to do that, you need to jailbreak your device at first.
Android TV box Pros
Cheaper than most IPTV boxes
More versatile than IPTV boxes
Access to many kinds of apps via APP Store
Great for gaming
Handles IPTV streaming quite well
Android TV box Cons
Relies on IPTV service apps when streaming
Less open
What SuperBox is?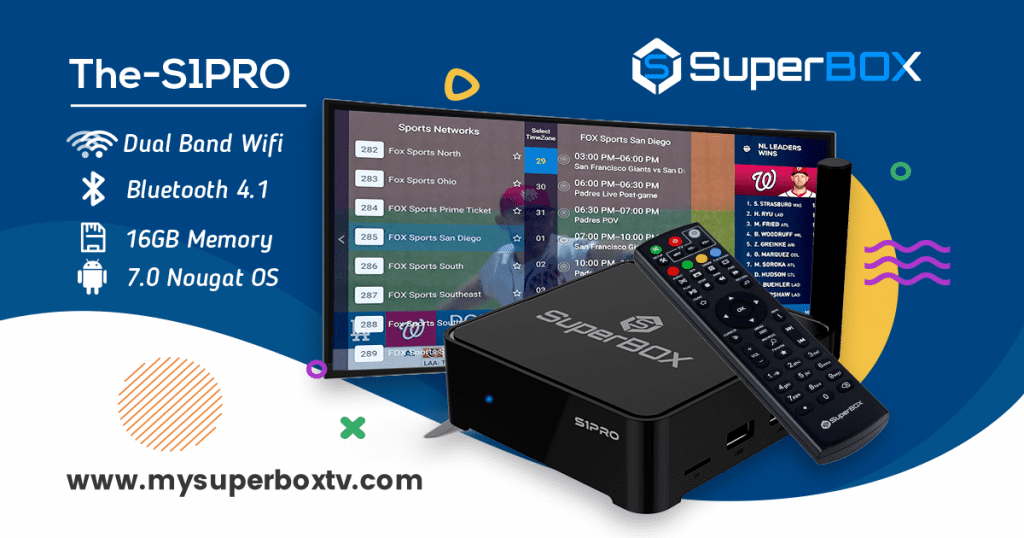 After we get to know what IPTV set-top-box and Android TV box is, plus their advantages and disadvantages, you might get more clear about how to choose a streaming device for your TV. Actually, we've never seen any IPTV STB or Android TV box with the same function as SuperBox, so how we define the SuperBox?
As we know the SuperBox is definitely an Android device powered by Android 7.0 Nougat OS, with 2GB of DDR3 memory, and 16GB of eMMC internal storage. Without any doubt, you can install many apps like YouTube, Netflix, Fox Sports, etc. Or just go to Google Play Store to download what you need. But what makes the SuperBox unique among all others? The answer is you need free knowledge of techs to enjoy TV entertainment. All you need to do is to get a SuperBox, then you're free to enjoy tons of channels and TV shows. Even if you are going through some tricky stuff, kindly contact us for any problems, we'll get back to you in minutes to solve your issues.
Kindly chat with the online service to start a 3-days free-trial on your Android device, or get it here.