By the end of October 2021. SuperBox dropped a bombshell, the SuperBox S3 Pro was released! In the Android TV Box industry, all brands seem stumbled at innovation like many other electronics, just regular hardware updating but no surprise. Finally SuperBox brought something new, let's dive into all details of this new gadget.
Full Review
Take a look at the box, SuperBox S3 Pro shares the pretty same design as the S2 Pro, sports a sleek-looking rectangular shape and dual eternal antennas in the back, and an LED clock in the front. Meanwhile the remote control is very different from the S2 Pro remote and S1 Pro remote, it takes a curve design on the back, and the most significant change is the new remote support both Bluetooth and infrared. And it has a voice button on it which means the box has voice control function. Beyond that, there are more features we'll find out.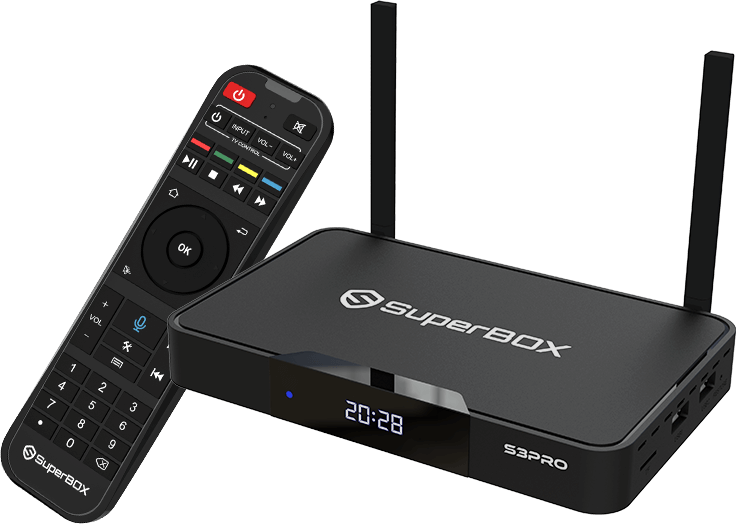 Tech Specifications
Operating System: Android 9
Processor: Quad-core ARM Cortex-A53
GPU: Mali-720MP2
RAM: 2GB DDR
Storage: 32GB eMMC
Antenna: 2T2R(2 transmitters, 2 receivers)
WiFi: Dual Band(2.4G & 5G)
Ethernet: Network RJ45 10/100M
Bluetooth: 4.1
Video Decoder: H.265 4k@60fps
Power Supply: DC 5V/2A
New Features
New Interface and Hotkeys Function
Turn on the box, you will get a brand-new and neat interface design like S2 Pro, besides of most often used apps and browser, you can also add your favorite apps in the shortcuts of the home screen. On the upper-right corner there's a weather icon to fetch your local forecast easily.
And you'll be noted there's an "FN" icon that has been added compared to the S2 Pro, by clicking it you can set up hotkeys to different apps, then you can go to certain apps just with one click.
Voice Control
The box comes with a premium remote control, which supports both infrared and Bluetooth. By pairing the remote to your SuperBox(Press the voice button and follow the guide), you're able to use the voice control function.
Perhaps you would wonder if other voice remotes can be used on TV box with Google Voice, what make this remote unique? In the first, with SuperBox S3 Pro, you don't need to download Google Assistant to use the Voice Control remote, the software was already built-in. All you need to do is press the voice button, then speak to control the box. The next big difference between the built-in voice control system and Google Assistant is by the built-in system, you can control more apps without restricted Google-related apps. In other words, you can speak and find certain TV channel names in the LIVE TV section, speak movie names, Directors' names, or actors' names in the VOD section to find certain sources, just by pressing the voice button on your remote. This function can almost free your hands and save a lot of time on searching, what a big pro for people bother to press so many buttons every time especially for the elders.
What's More
The SuperBox S3 Pro is taking another system that featured the voice assistant, so it's a bit different from S2 Pro system, like the search result page had a small change. And of course, the launcher, interaction design, and icons are slightly different.
Conclusion
From the outlook or specifications, the SuperBox S3 Pro stay the quality and seems didn't change a lot compared to the previous version, but one good thing is the storage has been doubled to 32GB, which helped a lot when you want to add more apps or store media resource in the box.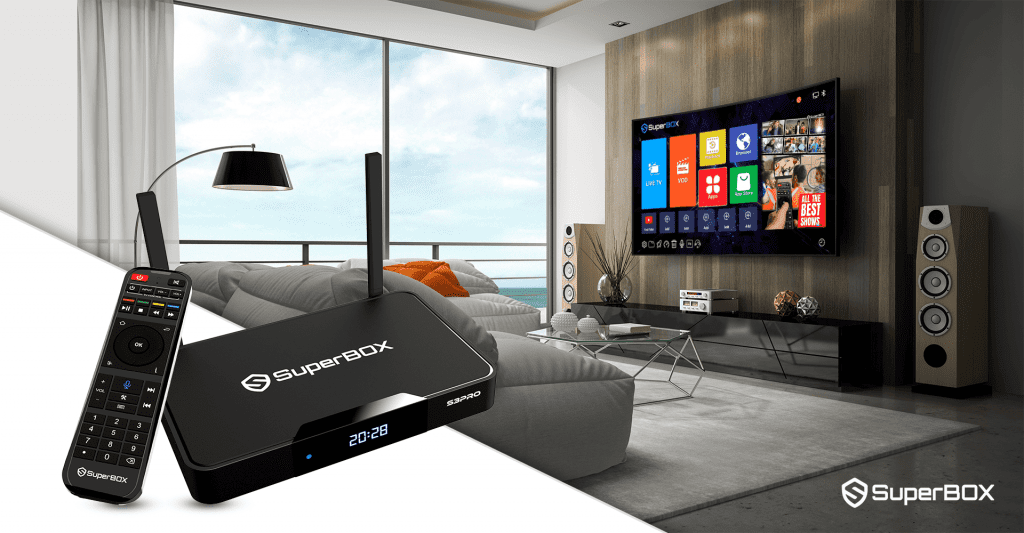 We all know that more and more families would choose IPTV to replace their cable subscriptions, but the cumbersome operation prevents many people from trying. Unlike many other Android TV boxes, SuperBox is always dedicated to make watching TV easier and more enjoyable. The SuperBox S3 Pro is definitely a big step among progress with the built-in voice assistant. No matter you're a tech-challenger or an Android TV box starter, or want to send parents a gift. The quality of SuperBox S3 Pro, the stability of streaming, the ease of usage will impress you a lot.